JOIN THE BIG
MAKEUP CLEANUP
We make makeup.
We are also committed to make change,
But it will take all of us.
Product by product, process by process,
Step by step, we are committed to be
Greener Together.
Find a Maybelline New York x Terracycle recycling
bin at your nearest Priceline and join the big
makeup cleanup!
OUR COMMITMENT DID YOU KNOW THAT MAKEUP EMPTIES CAN'T GO IN KERBSIDE RECYCLING?
Australian beauty brands are responsible for an estimated 95 million cosmetic products bought each year, which is the equivalent to over 127 garbage trucks of recycling waste that end up in Australia's landfill every year*. Maybelline & Priceline is committed to diverting at least 10 tonnes of makeup products from Australian landfill in three years.
*Consumer Panel Data, Beauty Tribe, n=6000, MAT July 2021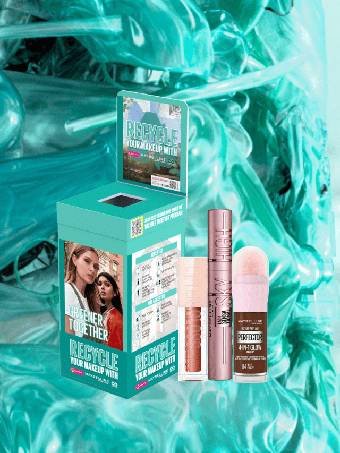 COMMITMENT #1

HAD YOUR FILL OF MAKEUP LANDFILL? SO HAVE WE. MAYBELLINE AND PRICELINE ARE COMMITTED TO DIVERTING AT LEAST 10 TONNES OF MAKEUP PRODUCTS FROM AUSTRALIAN LANDFILL IN THREE YEARS.

COMMITMENT #2

Bring your empty makeup products, from any brand, to your local Priceline and we will recycle them into something new!

COMMITMENT #3

Once collected, the makeup packaging is cleaned and separated. Your makeup empties will be converted into products such as outdoor furniture, community garden beds, watering cans, bins and even playgrounds!
WHY DO MAKEUP EMPTIES NEED TO BE RECYCLED
How many garbage trucks does this equate to?

Beauty product packaging often mixes different plastic with other materials, making it hard to separate and recycle. Empty beauty packaging can be contaminated with leftover product such as creams and oils. There are specific difficulties with recycling black plastics, a colour often used in cosmetics, which optical sorting technology struggles to identify.
WHAT WILL MY MAKEUP EMPTIES TURN INTO?
Your makeup empties that are recycled will be sorted, melted and converted into an usable raw material format that can be repurposed. Plastics materials are used to manufacture new products such as outdoor furniture, community garden beds, watering cans, bins and even playgrounds. Glass and mirrors from makeup items will be ground down and used as road base.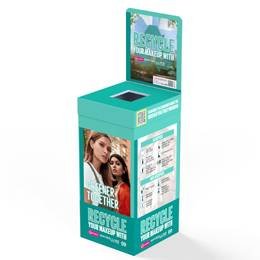 1/4

HOT TIPS FOR RECYCLING TIP #1

Recycle ANY makeup brand with Maybelline and Priceline!

2/4

HOT TIPS FOR RECYCLING TIP #2

You don't need to wash out your beauty empties before sending them off to be recycled, but you do need to use up or remove as much product as possible. Leftover product that can't be used is generally best disposed of in your landfill bin. Tubes can be cut open to make sure you get every last bit. This doesn't impact their ability to be recycled!

3/4

HOT TIPS FOR RECYCLING TIP #3

What is accepted? Glass bottles, pumps, caps & droppers, plastic tubes, bottles & containers, mascara tubes, wands & eyeliners, lip products, palettes and compacts (including mirrors)!

4/4

HOT TIPS FOR RECYCLING TIP #4

What is not accepted? Nail polish, makeup brushes, wooden makeup pencils, perfumes & aerosols and makeup products that are not empty.

1/3

OUR RESULTS

How many makeup empties has Maybelline diverted from landfill so far?

2/3

3/3

MAYBELLINE HAS DIVERTED 74,864 MAKEUP EMPTIES FROM LANDFILL

How many garbage trucks does this equate to?

NINE GARBAGE TRUCKS