LIQUID FOUNDATION VS POWDER FOUNDATION
FOUNDATION 101 HOW TO CHOOSE THE RIGHT FOUNDATION

There Are Dozens Of Formulas And Finishes To Choose From. Here's How To Pick The Right One For You...
Matte foundation, powder foundation, liquid foundation with a dewy finish, creamy stick foundations, two-in-one foundation and concealers… with so many options available, finding 'the one' can be tricky. Base makeup is now as customisable as your go-to morning coffee order. And this is exactly what makes it so hard to zero in on the perfect fit. The ultimate goal? That covetable 'your-skin-but-better' finish. Here's how to find out whether a powder or liquid foundation is the best option for you.
WHEN TO CHOOSE A LIQUID FOUNDATION
LEVEL OF COVERAGE: When it comes down to powder vs liquid foundations, liquid formulas tend to provide more coverage. But as its own category, no two liquid foundations are the same. If you're after light coverage, choose a light foundation or even a tinted BB cream. If it's for an everyday, natural look, choose a medium-coverage liquid foundation you can 'build' to your liking. And if your mood for the day is an ultra-glam beat, long-wear full-coverage foundation is the answer

FOUNDATION FINISH: Liquid foundations come in a variety of finishes, but the major ones are dewy, satin and matte. For the most part, deciding on finish is a matter of taste. Dewy adds radiance to your complexion, while matte is a versatile, neutral finish perfect for layering on bronzer, blush and highlighter.

FOUNDATION RECOMMENDATION: Every hour is golden hour with Fit Me Dewy & Smooth Foundation. This luminous liquid formula glides on and delivers a summer glow all year round.

FOUNDATION APPLICATION: Generally, liquid foundations are easy to work with. Using a brush, sponge or your fingers, apply foundation in light, circular strokes. If coverage feels too sheer, allow foundation to dry and apply another layer. Continue until you're satisfied with the amount of coverage and the colour looks even and well blended. For more tips and tricks for how to best apply foundation, pop over here.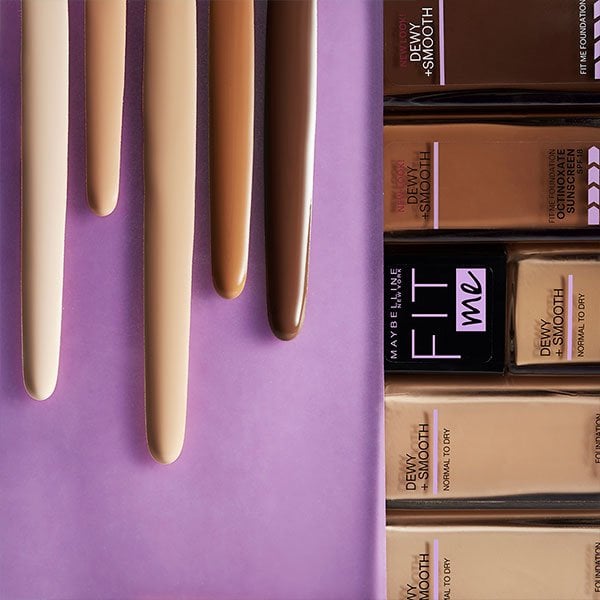 WHEN TO CHOOSE A POWDER FOUNDATION
LEVEL OF COVERAGE: Powder foundations are great when you want something lightweight. Mineral-based powder foundations are packed with pigment and are brilliant at evening out skin tone while maintaining a barely-there feel.

FOUNDATION FINISH: Powder foundations come in two finishes – matte and illuminating. They're great for nailing a quick, flawless finish but won't last all day. Because your skin continuously produces sebum, frequent touch-ups are required. So, only choose powder when you aren't in it for the long haul!

FOUNDATION RECOMMENDATION: If powder is your preference, go for Mineral Power Powder Foundation. It provides a lighter level of coverage and its dry particles absorb moisture, leaving you with a smooth, radiant base.

FOUNDATION APPLICATION: A dry sponge is the tried and tested method of applying powder foundation and maximising coverage. For a lighter layer, brush on your foundation with a buffing brush. Pro Tip: To avoid a cakey finish, spritz your buffing brush with a skin mist before application.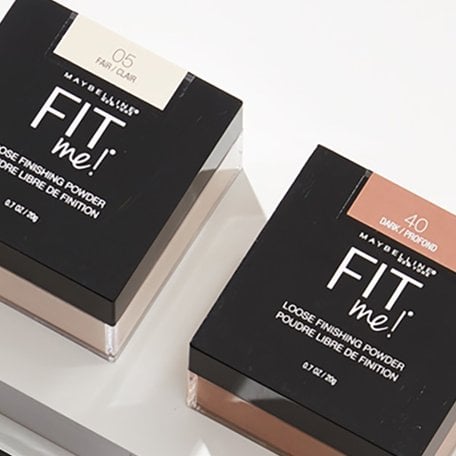 THE RIGHT FORMULA FOR YOUR SKIN TYPE
FOUNDATION FOR OILY SKIN: If your skin is on the oily side, nip shine in the bud with a mattifying foundation. If you prefer a liquid foundation, try cult favourite Fit Me Matte + Poreless Foundation, which is formulated with micro-powders to blur pores for a smooth, natural finish. Even go the extra mile and brush a little Fit Me Loose Finishing Powder over your foundation. Result? A definitively shine-free makeup base.

FOUNDATION FOR DRY SKIN: Skin dry and patchy? Look for hydrating formulas such as a liquid foundation or stick foundation. Both have creamy (read: moisturising) consistency to give skin the TLC it needs without that cakey finish. Dream Radiant Liquid Foundation is infused with hyaluronic acid to deliver up to 12 hours of radiant coverage. Avoid powder foundations that can sink into fine lines and highlight dry areas.

FOUNDATION FOR COMBINATION SKIN: If you have combination skin, look for a product that allows for precise application like a stick formula foundation. Simply apply more where you need it and less where you don't. The Superstay Multi-use Foundation Stick is perfect for this. It has a creamy texture so blending is easy and the dual-sided stick comes with a precise makeup sponge so you can get strategic with the areas that may require a little more oil-absorbing coverage. Have a look at our tips and tricks for how to best apply foundation