WANT A LONG-LASTING LIPSTICK THAT STAYS ON THROUGHOUT THE DAY?
Be amazed by Maybelline's range of long-wear lipstick, designed to not smudge or fade throughout the day. Learn how long-lasting lipsticks work here.

Wearing a good lipstick can completely transform your makeup look and elevate your entire outfit, whether you're sporting a daring red or a delicate peach. Lip colour can really take things up a notch, so it's no wonder that finding out your chosen lipstick is prone to smudging, transferring and fading can put a dampener on your day (or night).

Thankfully, finding a lipstick that stays on is possible, it just takes a little care and attention to choose the right one. We've penned this guide to help remove the guesswork from finding the best long-lasting lipstick for you. Keep reading to learn what makes a lipstick long-lasting, tips for long wear application, as well as lip colour recommendations.
WHAT MAKES A LONG-LASTING LIPSTICK?
You know that you want a lipstick that will last the whole day, but what are the tell-tale characteristics of a long-lasting lipstick that you should be seeking out?

Long-lasting lip makeup often highlights its staying power in the name, however not all lipstick formulas will perform the same. Long wear lip colour can take many forms, from liquids and crayons to long-lasting lip glosses. The traits these formulas tend to have in common are a high concentration of pigment, a matte to slightly shiny finish and a refined texture to avoid flaking.

There's a misconception that long-lasting lipstick formulas tend to dry out your lips or end up looking dull over time, but that should not be the case if you choose the right formula. Our long wearing lipsticks are designed to be hydrating and vibrant for the whole wear.
APPLICATION TIPS TO HELP LENGTHEN YOUR LIPSTICK WEAR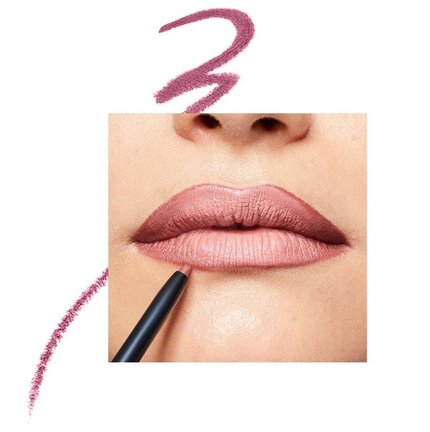 When it comes to achieving the best long-lasting lipstick looks, technique plays a role in supporting well-formulated products. Adding a few simple tweaks to your lipstick application routine could help your colour go the distance. These are our top application tips for long-lasting lipsticks:

TIP 1: Use a quality lip balm regularly, not just right before you swipe on your lipstick. This will help keep your lips moisturised, getting rid of any dry, flaky skin to aid in creating a smooth canvas for your lip colour.

TIP 2: Set your boundaries with a lip liner before moving in with your lipstick. This is to stop your lipstick from bleeding or smudging outside your lip line as the hours go by.

TIP 3: Apply your lipstick over a thin layer of concealer. Just a little should be enough to form a base for your lip colour to latch onto.

TIP 4: Use a lipstick brush to work your lip colour into your pout, ensuring even distribution.

TIP 5: Finally, when removing your lipstick, use a makeup remover to avoid agitating your lips. Our SuperStay Eraser Lip Colour Remover is designed specifically to remove long wearing lipstick while keeping your lips in top form for future applications. Simply swipe over your lips and rub them together.
THE BEST LONG-LASTING LIPSTICKS FROM MAYBELLINE
Maybelline has developed a whole range of ultra-long wearing lip colours to help keep your pout looking fresh from day to night. Here are our favourite long-lasting lipstick options, from liquids to crayons and beyond.
See our Super Stay Matte Ink Longwear Liquid Lipstick in action when you watch Ruby Golani's Day to Night Makeup Tutorial.